Letter to LEA Contesting a Child's School Allocation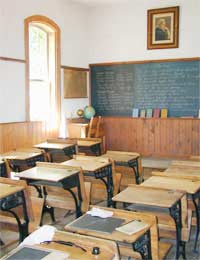 Families who are allocated a school by their Local Education Authority (LEA) which does not fulfil their needs for their child's education can feel upset and stressed about what to do next. The good news is that if you want your child to attend a certain school but have had your application approved by another school, you are able to appeal to your LEA to change their decision. This appeal goes to an independent appeals panel established by each LEA. Usually these appeals will hinge on certain criteria, for example parents who live very close to a particular school may appeal to have their child attend that school; this reason is especially valid at primary school when parents tend to drop off their children at school every day. Other reasons might include a child's sibling already attending a particular school, or if a parent regards certain needs of their child being better met by a particular school.
How to Appeal Against the Allocation of a Child's School Place
Unfortunately there is no clear cut way to carry out an appeal as most LEAs have their own way of dealing with the process. However, there is a general route that most LEAs follow: this is, the LEA will make available a form or ask for a letter detailing the specific reasons why parents want their child to attend a particular school. If families have any difficulties completing an appeal form, for example, due to a disability or language problems, they should contact the LEA directly.
This letter format laid out below is a sample way that parents may write to an LEA to appeal against their decision to allocate a child a particular primary school place. Parents may wish to use the below letter as a template to see the phrasing and tone which can be used to contact an LEA as part of an appeal for a place for a child. After the appeal, the appeals panel clerk will usually send you a response in the form of a notice of the appeal hearing, asking you whether you will be attending the panel. A week before the appeal you will be sent the authority's response to your appeal, and thereafter hearings will usually take up to 30 school days to organise.
The School Appeals Board
The LEA
Councilville
England

Parental Address
Family Home
School Lane
England
1 May 2008
Dear School Appeals Organiser
We have today heard that our son, Milton Jones, has been allocated a place at the Youngview Primary School in Epsom. His school candidate number is GH4564365. Unfortunately we are writing to request to appeal this decision, for the following reason. We live in Colby, around 20 minutes' drive from Epsom where Milton's arranged school is, and only one of us (John, Milton's father) can drive, but he has to take the car to work early every morning. I am unable to drive for medical reasons and enclose details in a letter attached to this request to appeal Milton's place.
As such, we would appreciate it if you could reconsider Milton's schooling allocation. The primary school in Colby is only a 5 minute walk from our door, and Milton's education would be far more accessible for us as a family if he was able to attend the Local School in Colby.
We await your response: you can contact me, Lydia, on 0121 2343 9049 or 0723422342, or email me at lydia@neighbours.com, and hopefully we can quickly arrange an appeal date and to meet with your independent panel to discuss this situation.
Yours sincerely,
[signature]
Mr and Mrs Jones
You might also like...
@judi - you need to apply to the school directly to ask this question.
EducationLetters
- 25-Feb-15 @ 2:46 PM
I am writing for an appeal for my daughter to attend Rosehill Methodist School. She attended Lady Mount Carmel but due to her baby brother having heart disease and having to attend alot of hospital appointments from tameside hospital to Manchester childrens hospital she has missed alot of school education due to me not being able to get people to help have her after school while im stuck in hospital with my son. At Rosehill I will have family n friends that can help with this situation so my daughter can still attend school while im at the hospitals. Please reconsider and help me get my daughter into the school I really need her to attend.
judi
- 23-Feb-15 @ 8:32 PM