Letter to School About Your Child Being Bullied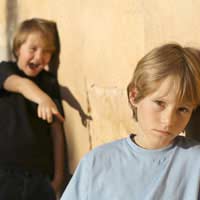 If you suspect - or have been told - that your child is being bullied, it can be very upsetting and stressful for parents as well as the child involved. But there are steps you can take to help to put an end to bullying quickly, and as painlessly as possible. If bullying occurs in the school playground, classroom, on school property or travelling to or from school, parents should involve the school in putting an end to the bullying. Remember that bullying isn't just physical abuse - it can include things from being called names and teased to being left out, to being physically attacked or threatened.
The Duty of Schools
If you tell a teacher or head teacher that your child is bullied, you should expect a proper response from the school. Headteachers are legally required to have anti-bullying procedures in place, as well as a system in place if bullying does occur to put an end to it quickly.
Steps to Take
If you think your child is being bullied, first talk to him or her about your concerns. If your child has come to you and told you that he or she has been bullied at school, contact the school's head teacher. Write a letter clearly outlining the incident(s) that have taken place, when, where, who was involved and what the consequences were. Most head teachers will then want to interview all concerned, including you as the child's parents, and will record the incident.
The head teacher should ensure that class teachers are kept aware of the situation and should keep you updated on any developments, punishments or findings about the incident of bullying. The child who was a victim of bullying should be offered support and reassurance from teachers to help to regain self confidence, while punishment of the bully might include detention, exclusion or punishment within school such as community service. The school might want to take further action within the whole school community by discussing bullying in lessons like PSHE, or during form time or assemblies.
The following letter looks at the best way to approach a school if you think your child has been bullied by another school pupil.
The School House
School Lane
Schoolville
England

Parental Address
Family Home
Anytown
England
4 February 2008 Dear Headteacher
We are the parents of Roger Serton, currently in year 9 (form R), and unfortunately have to report to you that he has been experiencing bullying this year at school. Roger first came to me (Irene, his mother) three weeks ago to tell me that fellow students called Matthew and Steve, both in his form, had deliberately tripped him up in games and then took photos on their mobile phones. I thought that it might have been a one-off, but a few days after that (Wednesday 27 January), Roger told me that a larger group of boys had been teasing him during lunch break, calling him names such as 'swot'.
Yesterday Roger came home with his blazer ripped after the same two boys had been pushing him around. This is obviously really upsetting Roger, who used to love school but now shows apprehension about getting up every morning. As his parents we are very worried and believe the school needs to take action. We would appreciate the opportunity to come and talk to you about this matter as soon as possible.
You can contact us on the address above, or on 0141 423 2345
Yours sincerely,
[signature]
Mr and Mrs Serton, mother and father of Roger
You might also like...
My daughter who is 7 has been constantly kicked, punched pushed over and had her hair pulled. The girl is in main stream school but apparently has behaviour problems. Surely she should be properly supervised as she does this to many quiet children. Im at my wits end the school wont listen and say my daughter is lying even thougj i have proof and school letters about incidents. Please help advice needed as she's being ill not wanting to go in.
Chick
- 4-Feb-20 @ 7:34 PM
Make sure you speak up about this! We must not keep quiet. If the principal or School office don't do anything then we must go to the superintendent or the higher-ups but we must not allow bullies it's a cycle bullies are bullies because they come that way by someone else who is older and has will leave them or there's something going on at home that must be taken care of
NANCY
- 19-Apr-18 @ 5:27 AM
My daughter is 10 yrs has bul bullying for three years and teasing and kicking her shoes by this little girl in her school I've been asking for the school to put her in different classes and right now their complaint is they not sure that can happen this this last year my question is how do I go about making it happen
gigi
- 19-Jun-17 @ 10:57 PM
Bullyin Is Nt Right For Our Children// We Hav 2 Complain
Boksti
- 17-Aug-15 @ 1:04 PM