Letter Applying to Start a Free School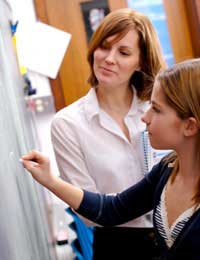 Free Schools are a new addition to the UK's education landscape. While similar establishments have existed in American and Sweden for some years, they have only existed in law in the UK since the coalition government took office.
The idea is that anyone can set up a Free School where they think there is a requirement that is not already being fulfilled. The school doesn't necessarily need to be staffed by qualified teachers, although it will be subject to regular Ofsted inspections. The schools must have an open admissions policy, and they will be funded by the government.
How Do I Apply to Start One?
The application process is difficult. It involves putting together a comprehensive business plan that demonstrates why the school is needed, and how it will be run. Before this, though, you will have to prove that there is a need for the school, and that your group is suitable and properly qualified to run it.
There is a formal applications process that involves filling in a number of separate forms. Applicants whose proposals are deemed to be generally acceptable are then invited for interview.
Who Considers the Applications?
All applications are considered by the Secretary of State for Education. Proposals are considered in a number of different stages. First, it is decided whether or not the proposal meets the minimum criteria. Then, the proposal is considered in competition with other proposals. After this, due diligence and site investigations are carried out. After this, the applicants are invited for interview. Then, finally, successful applications are announced.
In order to apply to start a Free School you need to complete the forms provided by the Secretary of State. These are available on the Department for Education website.
In addition, though, many applicants choose to write a covering letter to accompany their proposal. This letter should give an overarching view of the project, explain the reasons for the school's potential establishment, and outline why you and your group are best placed to set it up and run it. The following is an example of such a covering letter.
Example Letter
Mrs Smith
Any Street
Anytown
Postcode
Dear Mr Gove,
I am writing, as a representative of the Anyschool Group, to express our interest in establishing a new Free School.
The Anyschool Group aims to address a striking imbalance that exists in Anytown. The area, in the heart of North London, is home to some of London's poorest families – and also some of its richest. This imbalance is reflected in school provision.
The Anyschool Group is made up, in part, of members of the governing body of Greatschool, one of the leading fee-paying schools in the area. It is our intention to take the ethos that has guided Greatschool for so long, and to use it as the foundation for a new, open admission Free School. We want to provide to everyone the same high quality, highly experienced, specialised teaching that students of Greatschool already enjoy.
As you will note in our proposal, the Anyschool Group has already identified an ideal location for the School. Much of the infrastructure that we require is already present – and it is situated in the heart of one of the most financially deprived areas of Anytown.
In addition, the Anyschool Group has, collectively, over a hundred years of teaching experience at the very highest level, in a variety of areas. We hope that our proposal will be considered favourably.
Yours faithfully,
[Signature]
What About Funding?
Funding remains a grey area for Free Schools. The schools will, theoretically, be funded by the state – but only up to a point. It may well be that you need to find extra money from elsewhere in order to fulfil your ambitions for the school. In these cases you will probably need to approach third parties for cash.
You might also like...