Letter Requesting School Leave for a Religious Occasion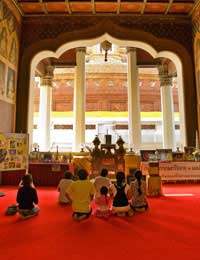 A school education these days can be secular, religious or somewhere in between, but religious families may have alternative needs, such as the observance of a special festival, that will not be possible to meet during a school day. Parents, in this instance, may need to seek permission from a school for a child to be absent in order to celebrate or commemorate a religious holiday or festival.
School Attendance Policies
Many schools take the view that pupils have long holiday periods each year, usually twelve weeks or more, and that taking leave above that amount - unless ill health demands it - should be avoided. This explains some of the recent furore in the media about families who have removed children from school to go on holidays or visits abroad during the term time. Most schools, however, understand that religious leave comes under a separate family need; it helps that most absences from school due to religious reasons do not last longer than a couple of days.
So, in circumstances where a student needs to be away during term time, parents or guardians should contact the school as early as possible before the required leave, to ask permission for their child's absence. Even if the parent feels that the child should certainly be given leave, they should phrase the letter in terms of asking or requesting that leave, since the school's permission is discretionary, although for religious reasons it would be exceptional for this leave to be turned down.
It is a good idea if the parent makes it clear that their child will be proactive (if the child is an older student) about asking teachers for the appropriate work to catch up on missed teaching time, and to reduce the impact on the child's learning and progress as well as potential disruption to the rest of the class.
The letter format laid out below shows a good way to approach a school to ask permission for a child to miss school for two days for a religious festival. The letter written below can be used as an example of the ideal tone to write to a school to ensure the best kind of response.
The Head Teacher
The School House
School Lane
Schoolville
England

Parental Address
Family Home
Anytown
England
5 January 2008
Dear Head Teacher
My daughter, Tanya Fu, is in form 11B, Mrs. Lewis' form, studying for her GCSEs. I'm writing to you because although Tanya rarely misses a day of school - and is very aware of the rapid rate at which GCSEs are approaching - we have an important religious festival coming up in two weeks, on the 19 January until the 20 January, and I would like to request permission for Tanya to join us at our religious centre, and therefore to miss these two days of school.
I know the timing is difficult and cannot underestimate the importance we place on school and misgivings we have about Tanya's absence, but this festival is very important to our family. If permission is granted Tanya will, of course, seek advice from all her involved teachers about receiving catch-up work in advance, so she can do this work at home in the evenings and avoid disruption to her education or a negative impact on the rest of the class having to wait for her to catch up.
I hope you understand and allow Tanya to miss these two days. If you want to talk this through anymore, you can contact me, Mother, on 0131 2343 9049 or 0723422342, or email me at mother@parents.com. Hopefully permission will be granted and we can enjoy our religious festival.
With thanks for your time and best wishes
[signature]
Mr and Mrs Fu, mother and father of Tanya Fu
You might also like...
With reference to above cited subject I inform you that my daughter unable to attend the school dated 30th, 31st Octoberand 4th and 5th November 2019 because she attended the Chhat puja in Patna, night.
Akanksha
- 5-Nov-19 @ 3:21 PM
Most schools are going to be very sensitive to religious holidays and be aware of which children are likely to be affected. However, sending a letter well in advance allows them to make their plans, and asking for work for the child to do while they're off will always help, too, ensuring there's no danger of falling behind in anything. It's very unlikely that your request would be denied, as it would risk a lawsuit, something no school or education authority wants.