Letter to School Asking About the National Curriculum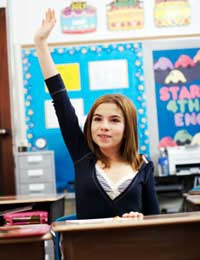 The National Curriculum sets out the plan for what children should learn at different ages (which are broken down into Key Stages). The National Curriculum sets out what subjects will be taught by teachers to students of various ages; what skills, knowledge and understanding should be taught and should develop amongst students, the attainment targets for children of various ages, and how children's progress will be reported and assessed.
The National Curriculum is obligatory (children and teachers have to use it at the core of the education system) within state or maintained schools; private schools are not obliged to follow it, although some choose to do so. For parents for children at state schools particularly, then, the National Curriculum and the way that schools follow it will have a very significant impact on children's education. For that reason, many parents will want to write to their children's school to enquire about the nature of the use of the National Curriculum within the classroom.
The National Curriculum and Assessment
Assessment (or - lets not beat about the bush: exams!) are a core element of the National Curriculum, and Sats and testing procedures are currently being examined. Currently at the end of Key Stage one, assessment of progress is carried out informally by your child's classroom teacher, who will consider each child's ability mainly in the subjects English and maths, and will measure this ability through tests but these are not set out in a 'formal' manner.
At the end of Key Stage two, children are given national tests to sit in a more formal setting in the subjects English, maths and science. Tests are no longer part of assessment at the end of Key Stage three, while testing at the end of Key Stage four is usually in the form of GCSEs, or an equivalent examination. Schools often use these National Curriculum tests to work out their own overall performance, compared to national levels of attainment and standards.
This letter format laid out below shows how parents can write to a school to ask for information about the school's use and adoption of the National Curriculum and the Curriculum influences your child's education.
The School House
School Lane
Schoolville
England

Parental Address
Family Home
Anytown
England
5 February 2008
Dear Headteacher
My daughter, Mary Smith, is in year 8 at The School House, and is very much enjoying her time at the school. As she moved up the years, however, I am increasingly becoming interested in topics relating to the National Curriculum, which I often hear about in the national media. To that end, I wondered whether you would be able to send me through some information on the use and impact of the National Curriculum at different stages of education at The School House. When should we expect assessment periods, what does the National Curriculum set out for a student of Mary's age, is any more information available on the average attainment for students of Mary's age?
I look forward to hearing from you. You can contact me, Father, on 0131 2343 9049 or 0723422342, or email me at father@parents.com, and hopefully you can send through information to help me to work out how the National Curriculum influences Mary's education.
With thanks for your time and best wishes
[signature]
Mr Smith, father of Mary Smith
You might also like...