Write to School to Ask About Sixth Form Policies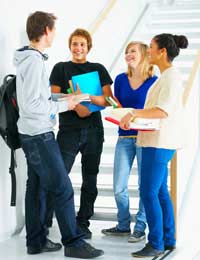 Children are usually very proud to be in their school sixth form, where they are the oldest pupils, tend to be given more freedom and independence, and can select their own study plans through subject choices and free periods. For parents, however, the sixth form can be a scary development!
Gone are the days when children are sent off to school early and return at a set time every day - suddenly, many sixth form students have the right to come home early if their studies are completed for the day, or not wear uniform, or miss assemblies if they choose to take study periods instead.
It can be difficult to adapt to the new position of being less aware of the rules surrounding your child's education in the freer sixth form, and it can be tempting to write into school to ask for a copy of your child's timetable and find out exactly what rules he or she should be obeying, and when his or her free periods really are, and so on.
But while it is obviously important that you know where your child is and how his or her sixth form studies are developing, it is also important that you allow your child to take charge of his or her life a bit too. So it's not a good idea to ask the school for a copy of your child's timetable behind his or her back; instead, talk to your child about the timetable and school policies on things like leaving schools during free study periods.
It is only if your child appears to be struggling academically, or the school highlights periods of absence that you should strongly intervene. What you can do directly with the school, however, is contact them to ask for a copy of their general sixth form policy on things like uniform and study periods. These can prove a useful set of guidelines for you to discreetly keep tabs on your child's 'take' on the rules he or she has to follow in the sixth form.
Example of a Letter
This letter format laid out below shows how parents can write to a school to ask for information about the school's sixth form policy. It is based on a fictional family's contact with their school.
The School House
School Lane
Schoolville
England

Parental Address
Family Home
Anytown
England
5 August 2008
Dear Headteacher
My daughter Riley is coming up to year 12 at The School House after working her way up from year 7 (I can't believe how fast time has flown!). She is very much looking forward to the extra freedoms and responsibilities of the sixth form, and hopes to get involved fully in school life in her last two years at the school. However, I wondered if you would be able to send through a copy of the school's sixth form policies on things like leaving school before the day is over, filling up study periods, and uniform choices.
We would be interested to hear more about the new rules that Riley will face in the sixth form and how we can help her to take on her new responsibilities. I look forward to hearing from you about this. You can contact me, Mother, on 0131 2343 9049 or 0723422342, or email me at mother@parents.com, or via the address above.
With thanks for your time and best wishes
[signature]
Mrs Deech, mother of Riley Deech
You might also like...