Letter to School About Healthy School Meals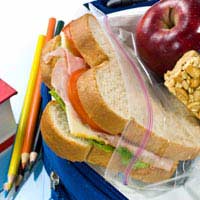 In recent years, the government has taken steps to make school meals healthier. The School Food Trust, an independent body set up in 2005, seeks to improve the quality of food supplied and consumed in schools. The School Food Trust is charged with overseeing the implementation of the standards for school food announced by the government in 2006, following the publication of the 2005 report 'Turning the Tables: Transforming School Food', put together by the School Meals Review Panel.
These new standards mean that the average school meal is designed to provide a child with one third of their recommended daily intake of nutrients and energy. National standards also seek to ensure that each child received one portion of fruit a day and another of vegetables or salad. The regulations also restrict the serving of some foods. Restrictions have been placed on meat products, as well as starchy foods cooked in oil or fat. Crisps, sugary drinks and sweets and chocolate are no longer provided, under these guidelines.
Many parents, however, are still concerned about the nutritional value of the meals their children receive at school and believe that standards could and should be higher. Below is an example of a letter that could be sent to a child's school, encouraging them to serve healthier school meals.
Example Letter
The School House
Schoolville
EnglandParental Address
Family Home
Anytown
England 5 February 2008 Dear HeadteacherI am writing to express my concern regarding the school meals served at The School House. My daughter, Sian, regularly returns home and tells me that she has eaten pizza for lunch. Worryingly, cheesy pasta dishes, sponge puddings and sausages also seem to make regular appearances on the lunch menu.
Sian also tells me that, whilst vegetables are served, these are usually over-cooked. As I am sure you are aware, over-cooking vegetables considerably decreases their nutritional value. Whilst it's great that vegetables are on offer, I would hope that they would be cooked in a manner that allows children to get significant health benefits from them.
I was thrilled when you started offering children fruit at break time. I see this as a really positive move. I do feel, however, that your lunch offerings could be greatly improved. Do you have any plans to offer food of a higher quality? What steps are you taking to encourage children to make healthy choices, both in the lunch queue and as they enter their adult lives? Do you have a document or charter that outlines the school's commitment to healthy eating? If so, I would be very grateful to receive a copy.I am sorry to send a letter of complaint in this matter but, as I am sure you will agree, the promotion of healthy lifestyle choices is one of most important challenges we face today.
I look forward to hearing from you about this matter. You can contact me, Graham, on 0131 2343 9049 or 0723422342, or email me at graham@siansparents.com, or via the address above.
With thanks for your time and best wishes
[signature]
Graham Turner, father of Sian Turner
You might also like...