Letter to School About Childhood Depression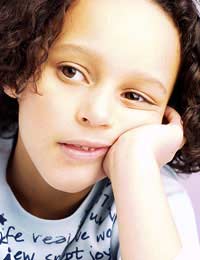 Child depression is a controversial topic. Indeed, many people believe that child depression does not exist at all. Childhood depression is a real and serious issue, however. It is important to understand that a depressed child is not simply feeling under the weather or experiencing a bout of the everyday 'blues'. Periods of sadness or anxiety do not necessarily indicate childhood depression but if it seems that your child's symptoms are beginning to have an impact upon their social life, hobbies, school work and day to day energy and enthusiasm, they may be clinically depressed. Childhood depression can be a worrying prospect for a parent but it is important to remember that, whilst depression is serious, it is also treatable.
So, what are the symptoms of childhood depression? Signs to look out for include:
Anger
Irritability
Feelings of hopelessness
Enhanced sensitivity
Withdrawal in social situations or a reduced enthusiasm for social interaction
Increased or decreased appetite
Sleeplessness or excessive sleepiness
Fatigue, low energy levels and a lack of enthusiasm
Inability to concentrate
Persistent stomach aches or headaches
Impaired performance at school
Suicidal thoughts
If you are concerned that you child might be suffering from depression, you should take them to see a doctor as soon as possible. If it turns out that your child is depressed, it is important to notify their school. Awareness is key, enabling teachers to keep an eye on your child and offer them their support. Getting in touch with your child's school will also enable you to find out about any extra forms of support that may be available to them during the school day, such as counselling.
Below is an example of a letter that could be send to a child's teacher, informing them of a child's depression.
Example Letters
The School House
Schoolville
EnglandParental Address
Family Home
Anytown
England 5 February 2008 Dear Mr BrooksI am writing to inform you about Susan's current medical situation.
For the past couple of months, Susan has been feeling rather sad. She has been crying regularly, has lost interest in horse riding and crafts, has withdrawn from her friends and has lacked motivation to complete homework tasks. My husband and I took her to the doctor and she has been diagnosed with childhood depression.
I thought it best to let you know, so that you could keep an eye out for Susan. As her form tutor, I was hoping you could also speak to her other teachers to let them know.
I have suggested that Susan joins a couple of after school sports clubs, as the doctor mentioned the importance of physical exercise and staying sociable. Are there any that you particularly recommend?
I was also wondering whether there are any other facilities at school that Susan could make use of. Do you offer a counselling service, for example? Is there a quiet place reserved for students who are feeling vulnerable at break or lunch time?
I look forward to hearing from you. You can contact me, Mrs Freeman, on 0131 2343 9049 or 0723422342, or email me at mrsfreeman@susansparents.com, or via the address above.
Thank you in advance for your support and understanding.
Very best wishes
[signature]
Mrs Freeman, mother of Susan
You might also like...