Letter to School About Child's Friendship Group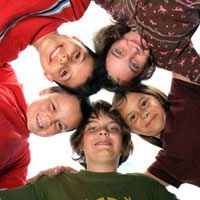 Over the course of your child's progress through the school system, it is likely that you will experience some anxiety about their social life. For example, you may be concerned that they are being negatively influenced by others, are experiencing peer pressure, are unhappy due to an argument with a friend or are talking too much with friends during lessons. Whilst you should encourage your child to take on the responsibility of managing their friendships and social life, there may be occasions when you feel the need to step in. If the problem seems to be based in the classroom or the playground, it may be wise to write a letter to your child's school to request their help with the matter.
When writing to your child's teacher to express your concerns, be sure to keep your letter fair and polite. If you have a few suggestions that you think might help the situation at school, it might be worth mentioning these. Bear in mind, though, that teachers will have their own strategies for helping pupils socially and for tackling any issues that may arise.
Below is an example of a letter that could be sent to a child's teacher from a parent who is concerned that their child is distracted by conversation and their friends in lessons.
Example Letter
Mrs Offer
The School House
School Lane
Schoolville
England
Parental Address
Family Home
Anytown
England
1 May 2010 Dear Mrs Offer
As the mother of your pupil Karen Darling, I am writing to express my concern about Karen's friendship group and its affect upon her work in class. I know that Karen greatly enjoys your lessons, particularly the History classes you teach. She usually comes home from school keen to share with me all that she has learnt from you that day. More recently, however, she speaks mainly about the conversations she has been having with her friends in the classroom and the games they play. I am worried that, in talking during lessons, her classwork is suffering.
I know that Karen loves sitting with Sarah, Fiona and Shelly and that they often work productively together as a group. Recently, however, I have been worried that things are getting out of hand. Karen has told me about some inappropriate conversations they have been having together that involve unkind comments about other members of the class. I wonder if, for the good of the group's worth ethic and behaviour, it might be a good idea if the class's seating plan was rearranged so that they are separated. Obviously, I am not present in class and can only go on what I have gathered from Karen. I know that you are sure to have some great suggestions for fixing the problem and would love to discuss these with you. Please do get in touch. I would be very happy to come into school one morning to talk through this with you, if you think a meeting would be helpful.
You can contact us on the address above, or via email at karensmother@email.com
With thanks for your time and best wishes
[signature] Ms. Darling, mother of Karen Darling (form 5c)
You might also like...