Letter Asking About School's Transport Provisions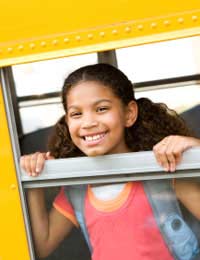 Depending on where your child's school is based, there may be many transport options or only one; at some schools, transport is provided for all students via public options like buses, trains, trams, etc; others offer privately-run coaches that parents pay for on a termly basis; at others there may be initiatives like walking groups where your children can walk to school, supervised by a leader and alongside other pupils.
Alternatively, you may find that the only school run option is that a parent has to drop off the child every day since there are no public or private transport provisions. Since the way that your child gets to school every day will really affect your own routine - doing a daily school run twice a day can take up to a few hours - it's a good idea to look into transport options by writing to the school before your child begins at a new one.
Free School Transport
It's a good idea to find out whether your child qualifies for free school transport provided by some local authorities. Children will be allowed access to free transport if they are between five and 16, go to the nearest suitable school, which is further away than the local authority's definition of a 'statutory walking distance'. The statutory walking distance, for pupils aged under eight, is two miles, and for older pupils can go up to three miles. Be aware that the way that the 'statutory walking distance' is measured is not only the shortest route but also takes into account safety and where a child can safely walk - so a motorway, for example, or a busy road with no crossings, would not count. If there is no safe route available, the local authority must provide free transport no matter how far or near you live from the school. This may also be available for children with Special Educational Needs, and those from low income families.
Transport Options
If walking or cycling are not options to get your child to his or her school, other options may include school buses, private coaches or mini-buses, public transport like trains or buses or car-sharing 'rotas' that parents may share.
The letter format laid out below shows you how to contact a school to ask about the possible school transportation options available.
The School House
School Lane
Schoolville
England

Parental Address
Family Home
Anytown
England
1 May 2008
Dear Headteacher
Our son, Lawrence Hague, is due to start year 7 at The School House in September. We live five miles from The School House in Withberton Town, and I am writing to you well in advance of Lawrence's starting date at school to ask whether you could give me information on the school transportation options.
How do most pupils travel to school? Do you have a list of nearby pupils that Lawrence could travel with? Which bus routes do most children take? Are there any supervised travel options? I would appreciate discovering more about these issues.
I await your response: you can contact me, Mother, on 0191 2343 9049 or 0723422342, or email me at mother@parents.com.
With thanks for your time and best wishes
[signature]
Mrs Hague, mother of Lawrence Hague (soon to be a student in form 7b)
You might also like...
How to write application for Bus issu my area...
Chaudhary
- 27-Sep-18 @ 10:47 AM
I want start small school transport bussinessis it possible to approach the bank for finances
victoria
- 27-Aug-18 @ 11:28 AM