Letter to School Offering to Make a Donation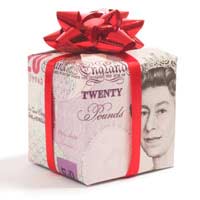 Most schools are always looking for fundraising for something - be it new equipment, new staff salaries, bursary or scholarship schemes, new building ideas, or one off costs like foreign trips for pupils on sports teams or involved in similar groups. Sometimes schools run specific fundraising events or organise money-raising campaigns. At other times, parents who have found their children extremely well supported, or well educated, may wish to independently donate money to their child's school as a way to say thank you. Most schools will appreciate any kind of donation, large or small, and on request will very happily provide you with help and information about how you can give money to a school or one of its campaigns.
Gift Aid
Be aware that if you pay tax, you will be able to make a Gift Aid Declaration on any donation that you give to a school. A Gift Aid declaration does not add to the cost of your donation, but allows the school to recover a percentage of extra money by claiming back the tax that it might have normally had to pay against the donation. Schools will usually send you a Gift Aid Declaration form on request (or sometimes as a matter of course). Other payment options may include the establishment of a standing order, where you regularly donate to the school. Some parents may also be interested in naming a particular school as a legacy in their will, which simply means providing a donation of money in your will to be donated to the school.
Types of Donation
Some schools will have organised particular donation options for parents, others may not have done, so it is a good idea to enquire about the donation options available to you before sending off a cheque or transferring money in another way. For example, some schools will offer you the opportunity to give a set amount of money and receive a reward, such as a building named in your honour (if the sum is particularly large), or other benefits such as invitation to the school to say thank you. If these are options that interest you, it can be a good idea to enquire about current building or resource campaigns in progress at the school. If, however, an anonymous donation is more up your street, then these are another option - you should make this desire very clear whilst you make the donation, however.
The letter format laid out below shows you how to contact a school to tell them you want to know more about donation options.
The School House
School Lane
Schoolville
England

Parental Address
Family Home
Anytown
England
1 May 2008
Dear Headteacher
I am the father of Farah Kelly, a student in year 9 at The School House. You are probably aware that Farah has had an unhappy year, battling her illness but keeping a cheerful countenance throughout and we were so happy to recently discover she is 'in the clear'. A great deal of the responsibility for the speed of her recovery can be laid at the feet of the school: Farah's teachers phoned, visited, provided work, kept in touch, organised pupil initiatives and were generally wonderful at helping us all through this difficult time. As a thank you, Farah's mother and I would like to give a donation to the school.
Please could you send through information on the donation schemes currently running at the school, as well as a gift aid declaration form? I await your response: you can contact me, Roger, on 0191 2343 9049 or 0723422342, or email me at roger@parents.com.
With thanks for your time and best wishes
[signature]
Mr Kelly, mother of Farah Kelly
You might also like...