Letter to School About a Child's Exclusion from a Team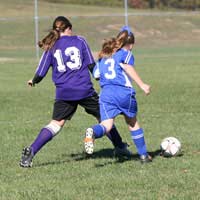 If, as parents, you discover that your son or daughter has been left out of a school team or activity, it can be very upsetting, especially if the exclusion has unsettled your child. Many schools regard sports and similar activities as an opportunity for children to get active and enjoy themselves, rather than emphasising the competitive element, but some may place more of a stress on the 'winning' aspect, and omit team members who do not 'make the grade'. If this is the case, and it has really affected your child, you might well want to contact the school to discuss their policy and its effect.
School Inclusion Policies
Some schools have set inclusion policies, which outline ideas such as the proposal that all children should have the opportunity to get involved with at least one activity, or there might be a set number of places on schools teams, that correspond with the number of children in the year. At other schools, teams are organised in a more meritocratic fashion, so the children who are the best at sport (or similar activities) may have many opportunities to participate, while less natural athletes (or musicians, or debaters, or whatever activity is involved) do not receive as many chances. To an extent, these kinds of school policies are established and difficult to negotiate. If, however, your child's school runs a strictly merit-based policy that is causing your son or daughter to be left out of every activity he or she expresses interest in, you should contact the school to talk about possible ways to get around the problem. Perhaps the school might consider launching a second team, emphasising fun and participation rather than winning; perhaps the number of activities on offer could be expanded. These are ideas you might want to suggest in your letter but then debate further in a meeting that you might arrange with teachers.
Exclusion by Other Children
At some schools, the selection for school teams is left up to fellow students. Football teams, for example, might be selected by two different team captains. If this happens and results in your child regularly being left out, this is another issue you might want to bring up with teachers. To an extent, children have to learn to grow a thick skin, so if a child is left on the bench as a one off, then it might not be a good idea for you to intervene. If, however, this is repeated and creating upset, then you may want to ask teachers if they could discreetly intervene, probably by altering the selection process rather than by directly addressing the children, as this can forge more embarrassment for the child involved.
This letter format laid out below shows how parents can write to a school to inform the form teacher that their child has been excluded from a school activity and to request the chance to meet to discuss the problem.
The School House
School Lane
Schoolville
England

Parental Address
Family Home
Anytown
England
5 February 2008
Dear Headteacher
My son, Johnny Kemp, who is in year 9 at The School House, has been coming home at school on Wednesdays very upset for the past five weeks. It turns out that he has been desperate to get involved with the school football team, but everytime he has turned up to practice he is left on the bench by the coach, and told by other pupils that he is not good enough and will "make the team lose". I understand that Johnny has to 'toughen up' a little, and I am not writing to you to ask that the school's football team is reorganised, but I am very upset to see Johnny so disappointed and wondered if there is something we could do to stop this problem. Perhaps the school could start another team, with more of an emphasis on fun and participation?
I look forward to hearing from you. If you want to discuss this face to face, you can contact me, Mother, on 0131 2343 9049 or 0723422342, or email me at mother@parents.com, and hopefully we can stop this upset and help Johnny get back on track at school again.
With thanks for your time and best wishes
[signature]
Mrs Kemp, mother of Johnny Kemp
You might also like...