Letter to School About a Child Who Has Difficulty Making Friends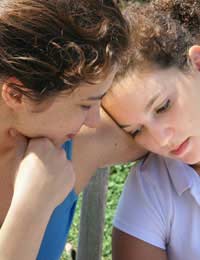 If you are concerned that your child is experiencing difficulty interacting with others in the classroom and forming friendships in the playground, writing a letter to your child's form teacher may be a useful step.
Before writing, be sure to discuss the matter carefully and tactfully with your child, so that you have all the necessary information at hand. In your letter, make sure you address the specifics of your child's situation and ask what help the school can offer. Is the child new to the school, for example? Could your child join a sports team or a craft club? If you have any suggestions that could be implemented in the classroom and the playground, it is also worth mentioning these. If you are concerned that the problem may prove ongoing, you could consider requesting a face to face meeting with your child's teacher.
As a parent, it can be distressing to think that your child is struggling socially. Taking positive action in writing a letter is likely to benefit both the child and the whole family. Put pen to paper to help improve your child's emotional wellbeing. Below is an example of a letter that could be sent to the teacher of a child who is experiencing problems making friends.
Example Letter
The School House
School Lane
Schoolville
England
Parental Address
Family Home
Anytown
England
1 May 2010
Dear Miss French
As you know, we recently moved to the area from Plymouth and Sarah has only been a pupil in your class for a few weeks. She enjoys her lessons, particularly English, but we are concerned that she is unhappy socially at the moment. She tells us that she hasn't made any real friends at school yet and that she feels left out at playtime. She also tells us that she often tries to sit in the library at lunchtime, when allowed.
We know that it is still early days just yet but are keen for Sarah to settle in and make friends. We have been getting to know our neighbours and arranging play dates with families nearby but want her to feel happy at school too. We were wondering if you had any suggestions that would help Sarah socially?
We have had a couple of ideas that we would be grateful if you would consider. We were wondering if you would be able to ask a couple of children to look after and mentor Sarah at break time and introduce her to their friends. We also think it would be helpful if Sarah was to take part in extra-curricular activities. Is there a list of clubs and sports teams available that we could look over?
We are confident that the situation will right itself but, if things are still difficult in a week or so, perhaps we could arrange a meeting to discuss the matter further?
You can contact us on the address above, or via email at sarahsparents@email.com
With thanks for your time and best wishes
[signature]
Mr and Mrs Rogers, mother and father of Sarah Rogers (form 3b)
You might also like...