Letter to School Asking for Improved Academic Resources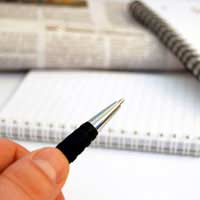 From textbooks to software, skipping ropes to food technology classrooms, the average school is full to the brim with equipment and resources. Many of these items are expensive for schools to purchase. Schools can save money by replacing items less frequently or by capping the resources they invest in. As a parent, however, it can be frustrating to learn that your child has to share a text book with two other students now and then, or has been polishing their word processing skills using an outdated software programme.
Tattered and annotated books, insufficient computers, an inadequately stocked library or a lack of sports equipment can all impede a child's educational progress. Whilst many schools work to strict budgets, a simple prompt may be all that is needed to encourage your child's institution to replace older resources or invest in more equipment. Below is an example of a letter that could be sent to your child's school, with this purpose in mind. Remember that, whilst you may be concerned with the condition or lack of resources across the school, the most effective letters of complaint are specific and cite particular areas where improvement could be made.
Example Letter
The School House
Schoolville
EnglandParental Address
Family Home
Anytown
England 5 February 2008 Dear Mr BloggsAs Head of Science, I was hoping you could address my concerns regarding your department's lack of resources.
My son Rob, a pupil in 7H, tells me that stocks of text books are low and that books are regularly shared between three pupils, slowing down the pace at which the children can read and work. Rob also tells me that, at times, he finds it difficult to get a good look at important diagrams, graphs and pictures when sharing with so many others. Such visual representations are obviously important in Science and it's a real worry that Rob's education is being hampered due to a lack of text books. The books are in a tattered state too, I hear. Some are apparently marked with distracting annotations and graffiti.
Rob also tells me that the department only has a couple of televisions, meaning that time is wasted moving machines at the beginning and end of lessons in which educational films are shown. Rob has told me that he has spoken with several other pupils about this, all of whom have expressed their concerns.
Do you have any plans to purchase more text books and/or televisions? If so, do you have a date in place by which you aim to secure more resources? I'm sure you can understand my worry over this matter, particularly when it seems that these problems could be rectified quickly and inexpensively. Rob loves Science and I would hate his progress in the subject to be hampered any further.
I look forward to hearing from you about this. You can contact me, Karen, on 0131 2343 9049 or 0723422342, or email me at karen@robsparents.com, or via the address above.
With thanks for your time and best wishes
[signature]
Karen Child, mother of Rob Child
You might also like...