Letter to School for Information on Numeracy Objectives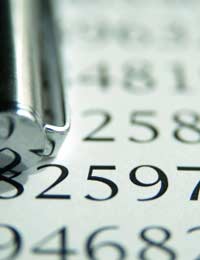 What is the importance of numeracy objectives? The objectives are part of the government's aims to boost numeracy - maths and counting skills - amongst children, and include seven key issues to help students to reach their optimum goals and achievement in the National Curriculum at Key Stages levels one and two. These seven key issues are: counting and understanding number, using and applying mathematics, being aware of, and using, number facts, comprehending the issues surrounding shape, doing calculations, doing measurements, and handling data. These objectives are supposed to help a child's academic development, and therefore can help parents to see where their child might be aiming for in terms of attainment, but should not be used to make a 'judgement' on a child, or become the focus of competitiveness with other parents.
While the National Curriculum sets out these key learning objectives, they are broken down by school year as well as by strand. So it can be helpful to contact the school to learn more information about the way that they are including these numeracy objectives into your child's education. Be aware that some private schools may not adopt these formal numeracy objectives, but will usually have their own standard goals for children in particular subjects and age groups, so the kind of information found in numeracy objectives may still be relevant.
This letter format laid out below is a sample piece of correspondence from parents to a school to ask for more information on their numeracy objectives. It can be used as an example of the best way to ask your child's school about their numeracy lessons and goals, to ensure a helpful response.
The School House
School Lane
School-land
England


Parental Address
Family Home
Anytown
England

1 September 2008

Dear Headteacher

Our daughter, Lydia, is just beginning year three (class 3F) at school and we are pleased to report - and confirm her own teachers' reports - that she is thriving: she enjoys lessons and the school day in general very much. One of her favourite subjects is maths, and she shows some ability in this class, and it is on this matter that I'm writing to you.

I have heard lots in the media about numeracy objectives, which I believe differ for different age groups and are split up into 'streams' covering various topics. I have researched the issue in a modest way but am eager to discover more about the way that Lydia learns maths and in particular the goals that she should be reaching according to the numeracy objectives. I am, as I mentioned, pleased with her progress and regard the numeracy objectives as an extra way for me to help discover more about her education.

As such, I would really appreciate it if you were able to send through some information on the school's use of numeracy objectives. If you feel it would be easier for me to come into the school to chat about this, I'd be happy to do so. If it would be more apt for you to forward this letter to Lydia's maths teacher, I'm pleased for you to do so. In the meantime, I await your response: you can contact me, James Smith, on 0131 3453 9019 or 07938273911, or email me at james@smith.com.

With thanks for your time and best wishes

[signature]

Mr and Mrs Smith, mother and father of Lydia Smith (form 3f)
You might also like...