Letter to School for Learning Difficulties Assessment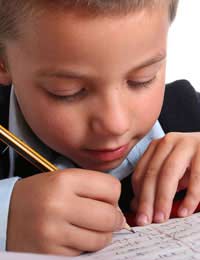 If a child is really struggling to cope at school, and needs a lot of extra help to manage in the classroom, or is not making anything like the kind of progress that the vast majority of other children are achieving, the school may contact your local education authority (LEA) to ask them to make an assessment of your child's needs, based on his or her specialist knowledge.
The assessment will look at each child individually, taking advice from teachers, doctors, family, social workers and any other involved parties to determine if a child has special needs, and, if so, what special help they would benefit from.
If a school has not approached you to discuss whether your child has special educational needs or learning difficulties, but you as parents believe this may be the case (or have been advised that this may be the case by other workers, such as a doctor or care giver) then you - as well as your child's school - have the option of requesting an assessment of your child.
It is, however, always the LEA who carry out these kinds of assessments, so your letter to request learning difficulty assessment should be addressed to the LEA. Nonetheless, it remains a good idea to send a copy of this letter to the school's headteacher too, so the school remains 'in the loop' about a child's educational needs and provision. Indeed, if you do feel there is a need to approach your local authority for a special needs assessment, it is important that you discuss the request with your child's school teacher or the school's special educational needs (SEN) organiser first.
This letter format laid out below is a sample letter from parents to be send to an LEA (and copied to the school) to request a special educational needs assessment to be carried out.
The Local Education Authority
Councilville
Your Town
England

Parental Address
Family Home
Anytown
England
1 December 2008
Dear Special Needs Co-ordinator,
Over the past term, we have begun to have some serious concerns about our son, Roger Lidden, a pupil in year three at the Anytown Primary School. Discussion with his teachers, after-school youth worker and our GP leads us to believe he may have special educational needs and benefit from an assessment of his needs by your LEA experts. His teacher particularly recommended that we bring up this issue, as Roger's development in class is considerately slower and more laboured than other members of his year. This concerns us so we hope you could carry out assessment that may help his educational progress.
We await your response: you can contact me, Roger's father, on 0151 7393 9049 or 0723459333, or email me at father@lidden.com. I am hopeful of a swift response by your SEN experts so that we can help Roger to get back on track at school to fulfil the best of his ability.
With thanks for your time and best wishes
[signature]
Mr and Mrs Lidden, mother and father of Roger Lidden
You might also like...