Letter Asking That a Child Be Challenged More Academically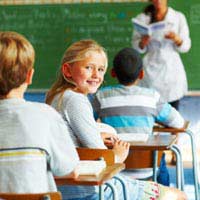 Given current class sizes and the numerous pressures faced by teachers today, it is understandable that a number of children may find that their academic needs are not always met. This may be particularly true of academically gifted pupils, who may feel that the work they receive does not stretch them enough. Whilst having a passion for learning and being intellectually adept are clearly benefits, students who are not routinely challenged may begin to lack motivation and inspiration.
All is not lost, however. If your child is facing this situation, a carefully crafted letter to their teacher is likely to do the trick. The letter should be addressed to the teacher that has the most contact with your child academically. This might be their form tutor, for example. If your child hopes to be challenged more in one particular subject area, however, do consider contacting their subject teacher specifically. In your letter, you should take care to outline the particular subject or skill areas in which your child is keen to work at a higher level. A tactful tone should also be maintained, so as not to cause any offence to your child's teacher. The key thing to remember is that your letter is intended to help the teacher encourage your child to reach their full potential. The letter should be positive and practical. An example letter can be found below.
Example Letter
The School House
School Lane
Schoolville
England
Parental Address
Family Home
Anytown
England
1 May 2010
Dear Mr Brown
As the parents of Tara Stroud, currently in form 8b, we are writing to discuss Tara's recent progress in your Maths classes. Tara has loved Maths for many years and has enjoyed tackling a new range of Maths skills and topics at secondary school. We know that she particularly enjoyed your lesson on networks and matrices.
Recently, however, we have noticed that she has been less motivated than usual to complete her Maths homework. We discussed the issue with her and she told us that, as much as she loves the subject, she currently feels a little uninspired. She would like to be challenged more, both in class and by homework tasks.
Tara mentioned that the year 9s receive extension sheets when their work is finished. Are there any similar resources that Tara could make use of? I know that the school used to offer additional after school Maths coaching for particularly gifted pupils. Is this something that might happen again in the future? Does the library hold any textbooks that Tara might be able to dip into? We understand that you are very busy but are keen for Tara to be stretched in this subject that she really enjoys. If you would like to talk over this in more detail, one of us would be able to pop into school at a lunchtime or after school. Alternatively, we'd also be very happy to give you a call to discuss this in more detail.
You can contact us on the address above, or via email at tarasparents@email.com
With thanks for your time and best wishes
[signature]
Mr and Mrs Stroud, mother and father of Tara Stroud (form 8b)
You might also like...