Letter to School for Information on Literacy Objectives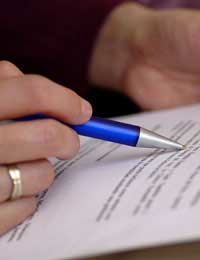 Lets first look at the importance of literacy objectives within a child's education. These objectives are part of the government's intention to boost literacy- reading and writing skills - and as such they are integrated into the National Curriculum style of teaching in state schools. Literacy objectives are made up of twelve main issues to guide students towards achieving their key goals. These are: speaking for a broad range of purposes and in various situations, doing the same with listening and responding, interacting with group discussion, getting involved in drama, word recognition in terms of understanding reading and spelling, knowing about word Structure and how to spell, comprehending and analysing texts, engaging and responding to those texts, writing and adapting texts, organising texts, awareness of how to form sentences and punctuate them, and presentation skills.
These strands are very bound up with the Early Learning Goals that are integrated into the National Curriculum, as taught in state schools - they are generally taught through reading a range of books and other texts, and teaching creative writing and other forms of writing. These objectives are in place with the hope that they will help a child's academic development. Parents may therefore want to know more about the way that their child's school integrates these objectives into the learning day in order to find out more about their child's education.
This letter format laid out below is a sample letter from fictional parents to a made-up school where the parents are asking the school for more information on their literacy goals. The letter can be used as an example of the best way to ask your child's school about their own reading and writing lessons and goals, to ensure a helpful response.
The School House
School Lane
School-land
England


Parental Address
Family Home
Anytown
England

1 September 2008

Dear Headteacher

Our son, Martin, is just beginning year one (class 1E) at school. Martin is our first child and we are really enjoying learning about the education system alongside his own lessons! We are happy to report that Martin is really enjoying his time at school so far, engaging in lessons and getting on well with teachers. I wanted to write to you as Martin is increasingly bringing books home from school to read and I'm helping him to get through a lot of books from the library, too, and would appreciate the opportunity to discover more about literacy objectives at school.

I'd love to know more about the way that the school teaches Martin to read and write, and the books you're going to be reading this year, so that I can continue to help him at home, hopefully working alongside the school's education methods.

To that end, I would be very grateful if you were able to send me some information on the school's use and adaptation of literacy objectives. If it's easier, I'd be happy to come into school to chat about the issues, with Martin's form teacher or the literacy objectives coordinator. I look forward to hearing from you: you can contact me, Penny Horden, on 020 7453 9019 or 07938273914, or email me at penny@horden.com.

With thanks for your time and best wishes

[signature]

Mr and Mrs Horden, mother and father of Martin Horden (form 3f)
You might also like...