Letter Requesting Permission to Set Up a PTA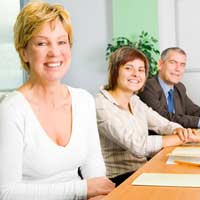 PTAs - Parent Teacher Associations - are run at most schools. They provide opportunities for parents to get involved in a child's school, including offering help to teachers and head teachers and organising events for other parents and to raise money for the school.
PTAs usually involve representatives from both the school's teaching staff and a wide range of parents who are usually involved in the childcare of students in a wide range of school years. There will usually be meetings set up for the Parent Teacher Associations to regularly come together, and a timetable of meetings will usually be established about a school year in advance, with meetings usually occurring either once a month or twice a term. These meetings will include time to discuss extraordinary events that have not been predicted as well as regular items such as annual school fetes, which PTAs normally organise.
What is Discussed at PTAs?
These meetings will normally have a core section about academic issues and curricular affairs. Parents may bring up any concerns they have with the general curriculum and school syllabus, although this is not the forum to air individual, personalised complaints but larger issues that affect many students. Individual complaints or concerns should be aired in another way - normally through direct contact with a child's form tutor. Each Parent Teachers Association will discuss different issues, and other ideas may include raising money to fulfil particular school needs, provide help with things like extra reading classes, organising or providing extra help on school trips and field trips, and organising or helping the establishment of extra curricular clubs. PTA parents will usually be expected to convey the results of their meetings to all parents, usually via letters sent home or email, but the administration of this will normally be carried out by school personnel such as secretaries.
Starting a New PTA
Normally any parent or registered care taker of a child attending a particular school can attend or establish a PTA within a school. The PTA will normally require a relatively significant time investment, so consider this issue before nominating yourself. If you think a PTA would benefit your child's school but do not personally have the time or ability to start it yourself, it may still be worth bringing the idea up with your child's head teacher. The National Confederation of Parent Teachers Associations (NCPTA) will also be able to help you with this proposal.

This letter describes one parent's way of approaching a school to discuss starting up a PTA.

The School House
School Lane
Schoolville
England


Parental Address
Family Home
Anytown
England

1 May 2008

Dear Headteacher

Our daughter, Carry Williams, is a pupil in year 7 at The School House in September. Her sister attends another school in the area which has a thriving Parent Teacher Association which brings many benefits to the school. I am interested in starting up a PTA at The School House to help boost staff-parent interaction as well as raise money for the school and start events such as an annual school fete, which recently was successfully organised by Carry's sister's school and raised a large sum of money. This has since boosted the school's resources and I hope that PTA might help The School House in the same way, to boost the school even more and help maintain its great teaching quality.

What do you think? I would love to discuss this further with you and gauge the interest level. I await your response: you can contact me, Mother, on 0191 2343 9049 or 0723422342, or email me at mother@parents.com.

With thanks for your time and best wishes

[signature]

Mrs Williams, mother of Carry Williams

You might also like...

hi good morning, my son school is good.But many PTA member are fight for normal issuj.It created big issuj.Many parants and childrean are afraid. how to soll this problame !

Tatya

- 23-Aug-18 @ 4:32 AM