Letter to School Requesting Consideration for a Bursary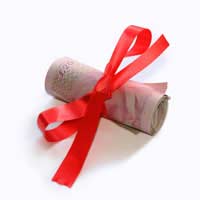 If you are facing serious problems covering your child's school fees, application for a bursary - a means-tested sum of money that children may be eligible for at many private schools - can be a useful way to receive financial help for the duration of your difficulties.
Bursaries are now very much established as a part of the independent school culture - up to 50% of school pupils receive either bursaries or scholarships at some of the top UK private schools. The usual route to a bursary is when a child first starts at their new school, either at year 7 or 12 in a secondary school, or reception or year 3 of a primary or preparatory school. However, if your circumstances have changed since your child started at the school, it is still worth contacting your child's school to ask about the availability of bursaries, since many set aside funds to help current students continue their education through bursary funds.
How to Find Out About Bursaries
Many schools advertise full information about their bursaries on their school website or in a central place such as a noticeboard within the school, some may hold this information more discreetly. If you cannot find this information in a public place, do not assume that bursaries do not exist - they may just be available to those who make enquiries.
For that reason, it is a good idea for parents to contact the school directly; try to explain your personal circumstances as clearly as possible in order to find out more about school bursary provisions. Sometimes bursaries are organised by a separate fund within the school body, so a simple phone call can help you to find out how they are organised within your child's school.
This letter format laid out below shows how parents can write to a school to request information about their organisation of bursaries. The letter is based on a fictional family's contact with their school.
The School House
School Lane
Schoolville
England

Parental Address
Family Home
Anytown
England
5 February 2008
Dear Headteacher
My son Larry is studying in year 11 at The School House. We have not received any scholarships or bursaries during his education at the school, however recently our financial circumstances have changed and we are now struggling to cover the full cost of the fees each term. We wanted to enquire about any bursary schemes that are in place at The School House and to find out what we would have to do to discover if we were eligible for any funds. Obviously this is a very grave concern for us, especially as Larry is about to take his GCSEs.
We would appreciate the opportunity to come and talk to you about this, or if you could send through any information on bursaries that you have. You can contact me, Father, on 0131 2343 9049 or 0723422342, or email me at mother@parents.com, or via the address above.
With thanks for your time and best wishes
[signature]
Mr. Felove, father of Larry Felove
You might also like...
Please help me on how to write a scholarship application for my son who is in grade 10. I'mworking as a casual and I can't afford to pay for his fees.
Saggy
- 26-Sep-20 @ 1:00 PM
hi please can anyone help me write up a bursary letter for my daughter's school for year 7 entrance. or any good examples i can have. thank you
rakesh
- 24-Aug-20 @ 1:24 PM
I am currently doing my first year online studying Marketing Management short course at IQ Academy. I am asking for help to pay my fees hence I can not afford paying all by myself. I am a hardworking student and I am dedicated to my studies whoever helped me out won't regret doing so. I am looking toward to hear from you soon. Thanks Regard Oscar
Mr Personality
- 26-Mar-19 @ 11:48 AM
Help me write a scholarship letter to study a Bachelor in Pharmacy. Thanks in advance
Gervai
- 6-Nov-18 @ 9:34 PM
Please anyone help me to send letter for bursary application for my daughter thank you
Md80
- 20-Oct-18 @ 9:24 PM
AM A HARD WORKER ,AND I AM REQUESTING A BURSARY .THIS IS MY FIRST YEAR AT CENTRAL UNIVERSITY OF TECHNOLOGY ,AND AM STUDYING ELECTRICAL ENGINEERING.I CAN'T DO IT ALONE ,I NEED TO BUY STUDY MATERIAL TOGETHER WITH NEEDS.PLEASE CAN YOU OFFER A BURSARY FOR ME.
LEGAR
- 2-Mar-17 @ 2:23 PM
I would like help with the busary application ans supporting statement.Doyou offer such services?
Brandon
- 10-Feb-17 @ 12:14 AM
Hello.please help me to write a cover letter for burssary application for my son .
Nazi
- 18-Jun-16 @ 7:29 PM
ireallylovethewayyouhelpneedystudentstofurther theireducation .iwi llapreciet yourassistancetowardsfinishingmy remainingtwoyears insecondary.regards
davey
- 12-Oct-13 @ 10:38 AM