Letter About School's Sex Education Programme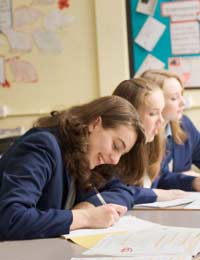 Many parents have questions or reservations when it comes to the sex education that their child will receive at school. Writing a letter to your school's head teacher is a quick and easy way to seek information and clarification. Before writing, it is useful to have a grasp of the school's responsibilities and the rights of both you and your child.
For parents of children at primary school, the key question is likely to be whether sex education lessons will take place at all. It is the responsibility of the governing body of a maintained primary school to decide whether they will include sex education in their school's curriculum, what it will cover and how the programme will be put into action.
The Sex Education provisions of the Learning and Skills Act 2000 were introduced on 1 November 2000. This legislation asserts that sex and relationship education, including information on HIV, AIDS and other STDs, must be provided by all maintained secondary schools. Governing bodies must hold a written statement, drawn up with the school's head teacher, documenting the school's sex education policy. This statement must be kept available to all parents, without cost. The statement should mention that a parent has the right to ask that a child be removed from sex education classes.
Below is an example of a letter that concerned parents might send to a head teacher.
Example Letter
Mr Brown
Head teacher
The School House
School Lane
Schoolville
England
Parental Address
Family Home
Anytown
England
1 May 2010
Dear Mr Brown
We are writing to seek clarification regarding the school's sex education policy. We understand that, according to the Sex Education provisions of the Learning and Skills Act 2000, governing bodies must hold a written statement of the school's sex education policy and make this available to parents. We would be very grateful if you would please send a copy of the document to the above address or to the email address detailed below.
We are concerned that children are learning about contraception and how to use it at a very young age and are seeking clarification so that we can make an informed decision as to whether to request that Tarn be withdrawn from some or all sex education classes. We are keen for her to be clued-up on all relevant facts but also want to protect our daughter from anything we deem inappropriate. What are the school's policies and views on contraception in the classroom? Also, how do you approach teaching children about relationships?
Tarn herself tells us that she is worried she might find sex education lessons embarrassing. We are keen to know about the format of the lessons, such as whether boys and girls will be separated, so that we can advise our daughter what to expect. Will lessons be taught by the pupil's form tutors and what training will they have received?
You can contact us on the address above, or via email at tarnsparents@email.com
With thanks for your time and best wishes
[signature]
Mr and Mrs Wright, mother and father of Tarn Wright (form 7b)
You might also like...