Letter Informing a School That a Child's Relative Has Died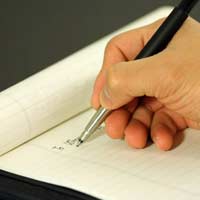 A death in the family is always hard but the loss of a loved one can prove particularly difficult for young children. For some, it may be their first experience of bereavement. At such tough times, the young require additional care and attention. It is vital to monitor their emotional wellbeing and encourage them to talk through any feelings they may be struggling with.
Young children spend the majority of their waking hours at school and, as such, it is vital that a child's teachers are informed when there has been a death in the family that may affect a child's behaviour, mood or ability to work. It is particularly important to contact a child's school promptly if they have an exam or assessment coming up. Once in the know, teachers will be able to keep an eye on your child and offer them any support, guidance or special treatment they may require.
Below is an example of a letter that could be sent to a child's teacher following a death in the family. It is important to outline any fears you may have for your child's wellbeing, as well as documenting any important additional information or requests. It is usually best to contact the teacher who knows your child best, asking them to inform any others that may need to know.
Example Letter
The School House
School Lane
Schoolville
England
Parental Address,
Family Home
Anytown
England
1 May 2010
Dear Mrs Offer We are writing to tell you some sad news that may affect Sam in the coming weeks. Unfortunately, Sam's grandfather passed away at the weekend, after struggling with lung cancer for a number of years. Sam has never lost a relative before and was very close to his grandfather, who used to care for him after school when he was in better health. We would be very grateful if you would please keep an eye on Sam during school hours and inform any other teachers or staff you think should know.
We should mention briefly that Sam has been asking a number of questions about both cancer and smoking, following his grandfather's death. We have tried to keep our answers simple and factual and have reminded him that his grandfather loved him very much.
Sam enjoys lessons and homework tasks and is keen not to miss out. He was eager to return to school straight away and tells us that he will be able to complete his homework tasks as normal. Whilst we support him in his enjoyment of school and homework, we understand that his concentration may wander over the coming weeks. We will let you know if he encounters any difficulties in completing his homework.
Lastly, Sam has understandably been a little withdrawn over the past few days and it seems that a little peace and quiet is his way of grieving. We wonder if Sam might be able to sit quietly in the library with a friend at lunch and break time for a day or two, to give him the chance to rest at what is proving a difficult time for him?
We'd be very grateful if you'd let us know about any concerns you may have regarding Sam's progress and happiness in the coming weeks. You can contact us on the address above, or via email at samsparents@email.com
With thanks for your time and best wishes
[signature]
Mr and Mrs Harrow, mother and father of Sam Harrow (form 4f)
You might also like...
Application for extra leave in my school, due to grand father death
prince
- 3-Nov-16 @ 2:33 PM