Letter to School About a Problem With a Child's Teacher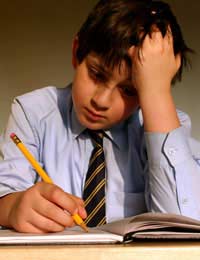 If a child is reporting problems getting on with their teacher, it can be tempting to march right into the classroom and bring up the issues there and then. But it will usually be a much better idea to write a letter to the school's headteacher about a child's concerns with their teacher, and in a letter you can think about what you want to 'say' more carefully to ensure the matter is dealt with in the best possible way.
It's usually a good idea to consider all the points of view in the matter, as well as your child's, to anticipate a school's response. Talk to other parents to see if their children are reporting any problems with the particular teacher, and ask your child if he or she has any difficulties getting on with other teachers. Even if you're certain that your child is right about the issue being brought up, find out as much information as possible before confronting the issue face-to-face, and write a detailed letter to the school describing your concerns and possible remedies. Usually in the letter parents will suggest a face-to-face meeting to discuss the problems with the school's headteacher or pastoral staff. Either way, a well-written, carefully thought through letter will aid your case while bringing up any potentially contentious issues with a school.
The letter format laid out below is a sample letter from parents to a school to ask about scheduling a meeting about a child's problems with a classroom teacher. It can be used as an example of the kinds of tone to contact a school to ensure the best kind of response.
The School House
School Lane
Schoolville
England

Parental Address
Family Home
Anytown
England
1 May 2008
Dear Headteacher
Emily has recently been telling us that she is having some concerns about Mrs. Smith, her year 6 teacher. I haven't contacted you immediately, as I know sometimes the children take time to adapt to a new teacher's education style or build up a rapport, but Emily has now bought up the issue several times. It has concerned me to the extent that I'm getting in touch as I know the school's pastoral support is usually so good.
However, in her new form class, Emily says she feels 'picked on' by Mrs. Smith. I know these are childish terms but having looked through her homework markings, some of the comments do seem worryingly negative. Emily is a child who thrives from positive feedback but is able to take criticism, and has never had problems with other classroom teachers, so I wonder whether you would have time to schedule a meeting with us to discuss the issue further. I have spoken to some other parents, and two others have also mentioned their children coming home from school upset by a couple of comments. As Emily is a such a crucial stage of her education in year 6, we'd appreciate the opportunity to ease out any problems with her relationship with Mrs. Smith. Perhaps it's just a case of asking her to be a little less critical of her, as Emily does benefit more from constructive comments and praise.
We await your response: you can contact me, Emily's father, on 0131 4563 3452 or 0778733952, or email me at father@parents.com. I look forward to meeting you to discuss the problem further.
With thanks for your time and best wishes
[signature]
Mr and Mrs Hughes, mother and father of Emily Hughes (form 6e)
You might also like...
My son my son is diagnosed with epilepsy before 1 years just help me to write a letter to the principal
ramu
- 24-Apr-18 @ 12:59 AM