Letter to School For Meeting About a Child's Report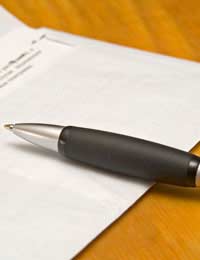 A report is supposed to act as a way of informing a child's immediate family about his or her academic, social and intellectual development, as well as facts on things like attendance, time-keeping, and reliability at handing in homework, and information on how a child gets on with peers and teachers. The report therefore acts as a way for parents to learn how their children act and learn at school - it is not a definitive 'judgement' on a child, and shouldn't become something that parents feel competitive or compare with other parents. If parents try to arrange a meeting with a school on an issue such as their child's report being less complimentary or positive than another child's, the school is likely to respond negatively. Instead, it's important for parents to voice concerns in a careful way to ensure the school understands the family's worries about their child's education and takes action, scheduling a meeting to talk through any problems face to face.
This letter format laid out below is a sample letter from parents to a school to ask about scheduling a meeting for a child whose report has identified academic and behavourial problems. It can be used as an example of the kinds of tone to contact a school to ensure the best kind of response.
The School House
School Lane
Schoolville
England


Parental Address
Family Home
Anytown
England


1 May 2008

Dear Headteacher

We recently received the copy of James' report that you sent out at the end of term. We were grateful for the opportunity to discover more about James' education so far this year, and appreciate the work of yourself and your team of teachers in looking after James' welfare and education. We were pleased to read that his form teacher considers that he has a lot of potential.

However, we also had some concerns about other things we read about in James' report. We were worried to discover that his behaviour is sometimes disruptive, and also that his teachers find his work is sometimes sloppy or done without due care. We consider this something that should be addressed further and would really appreciate the opportunity to come into visit you and James' teacher in school to talk further about what we can do to help improve James' behaviour and academic attainment. I appreciate you are very busy but our concerns about this uncharacteristic report of James' ability means we are very keen to look at his problems in order to help him to improve.

We await your response: you can contact me, Mother, on 0191 2343 9049 or 0723422342, or email me at mother@parents.com, and hopefully we can quickly arrange a convenient time to meet and help get James back on track at school.

With thanks for your time and best wishes

[signature]

Mr and Mrs Smith, mother and father of James Smith (form 3b)
You might also like...