Letter to School Offering to Be an Exam Invigilator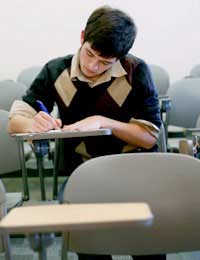 Exams are a very busy time for a school: large schools can be involved in the organisation and sitting of thousands of exam scripts, and public exams such as GCSEs, ASs and A Levels often overlap. So they can appreciate offers of extra help, especially in the role of invigilation - the people who work in exam halls alongside students sitting exams, to ensure that pupils do not cheat while also providing a supportive environment to sit exams, including ensuring that students do not run out of necessities such as paper, pens and other materials.
What Are the Duties of an Invigilator?
Most schools will divide roles into senior invigilators, who have the responsibility for a single exam-taking venue, the invigilators who work in it and the students sitting exams in it, plus their scripts, and invigilators. Invigilation staff usually have overall responsibility for maintaining order in the exam hall, ensuring that cheating does not occur, and making sure that candidates have the best conditions for sitting their examinations during, before, and just after (when scripts are being collected) the exam. Usually invigilators will also be asked to help to setting out the exam hall - not laying out all the tables and chairs, but sorting out the exam papers and materials in the rooms before the students arrive, as well as collecting the scripts at the end of the exam and ensuring they are organised in the right fashion to be dispatched to the examiners.
Schools may want invigilators to have some relevant work experience, such as having worked in a school environment or amongst young people before, as well as effective communication skills including good English language skills. It is imperative for invigilators to be reliable and to have excellent timekeeping skills, since they must be the ones ensuring that exams start and finish on time. Usually invigilators will be required throughout the exam-taking period (usually May-June each year).
The letter format laid out below shows a good way to approach a school if a parent is keen to become an invigilator. It should be noted that schools will not usually allow a parent to invigilate an exam in which their own son or daughter is sitting a paper. Some schools will pay invigilators, others expect the position to be voluntary.
The Head Teacher
The School
Townville
England

Parental Address
Family Home
Anytown
England
5 March 2008
Dear Head teacher
I am the mother of Freddie Rufus, in form 7b at The School, and Laurence Rufus, who just left the School and is now enjoying his time at university. I'm writing to you because after supporting Laurence through the exam process for the past three years of GCSEs, ASs and A Levels, I am keen to work more in the education sector and wondered if you would need my skills as an exam invigilator during the examination period this year.
My experience includes four years working as a teaching assistant in the 1990s; I can forward on my CV if necessary. I am well versed in the duties of invigilators, such as collecting and distributing exam papers, ensuring that the room is silent and no cheating occurs, providing students with any materials they need during the exam and helping a smooth running examination period take place.
If you do have any positions available, you can contact me, Jane, on 0151 2343 9049 or 0775822342, or email me at jane@parents.com, or at the address above.
Yours sincerely,
[signature]
Mrs Jane Rufus
You might also like...
Can a parent be an invigilator in an exam their child is sitting?
dianne
- 11-May-11 @ 4:22 PM