Letter to School Asking for a Child's Exam Timetable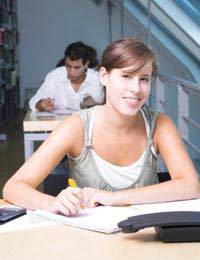 Exams are a large part of children's education nowadays, from their entrance exams to schools - or even nurseries - which can take place from the age of two, to the more formal exams of 11+, GCSEs, AS levels and A Levels which children now take throughout their secondary education.
As parents, it can be difficult to know when to 'draw the line' when a child is preparing for exams - especially as they grow older, it can be difficult to know when it is helpful to ask how their studies are progressing, or check on their exam and revision timetables. However, to avoid exams becoming a drain on a child, or growing to be a large stress, it is important for parents to know what their children are going through, and discover more about the exam process.
Many schools organise meetings for parents to attend to discover more about exams - particularly external exams GCSEs and A Levels which are marked by people other than children's school teachers. Many schools will have a parents evening and talk a year or so in advance of a child entering year 10, for example, to talk through the GCSE process, coursework and exam schedule. If your school is less proactive, however, it can feel like parents are sidelined as their children talk about their exams and their learning schedules.
If parents do feel out of the loop of a child's education at any stage it is important to voice these concerns, and during - or just before - the exam period this is particularly important. A useful way to address these problems is by scheduling a meeting to talk through any problems face to face - but if all you want to know about is a child's exam timetable so you can help your son or daughter to schedule revision, as well as knowing when you can book any holidays or other events, a letter to the school may be a completely adequate way of solving this problem.
The letter format laid out below is a letter written by a fictional set of parents to a school, asking for a copy of a child's exam timetable. This letter focuses on a child who is going to take GCSEs in the coming academic year. It can be used as an example of the kinds of tone to contact a school to ensure the best kind of response.
The School House
School Lane
Schoolville
England
Parental Address
Family Home
Anytown
England

1 February 2008

Dear Headteacher

Yael is going into her second term in year 11 (she is in 11B, Mrs. Clancy's form), which is, as you know, her GCSE year. She is excited about taking the exams and feels well prepared for the intensive learning period ahead. I am writing to you in the hope that you can address a logistical question I have with regard to the upcoming examination period in May/June this year.

Yael gets nervous about the actual timetable of exams, as she works best when she is able to organise her revision well in advance. To that end, although I know you may not have a specific, confirmed timetable yet, I wondered whether you would be able to let us know about any provisional exam arrangements that have been put in place - for example, the start and finish time of exams this year. As Yael's father lives in Israel and she visits him every summer holiday, he is anxious to book flights as soon as her exams are finished, so if you were able to send through this information it would be helpful both for Yael's studies and her father's arrangements.

I appreciate that you are very busy and that this information may not yet be available, but I would be grateful if you would agree to send me the information as soon as possible.

I'm very grateful for your help. You can contact me, Maura, on 0131 5343 2049 or 0734535343, or email me at Maura@Levee.com, and hopefully you can send through this information.

With thanks for your time and best wishes

[signature]

Mrs. Levee, mother and father of Yael Levee(form 3b)
You might also like...