Letter About a Child's Special Circumstances During Exam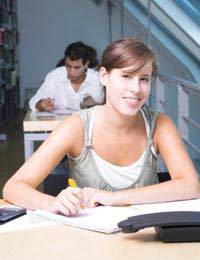 Pupils sitting exams may be eligible for what is termed 'special consideration' marks if they are unable to prepare adequately for or perform as well as they otherwise might in an exam due to circumstances beyond their control. Accidents, illnesses and bereavements are all reasons to receive marks for special consideration. Crucially, when seeking special consideration for your child, the school will not be able to pass the appropriate details of your child's particular circumstances on to the relevant examining body if they are not informed clearly, promptly and formally. Writing a letter is a simple and quick way to get the facts across.
When writing to request that your child receive special consideration in an exam, be sure to keep your letter simple and factual. Include the key information in a few sentences at the beginning of the letter so that the reader can quickly note the purpose of the communication. Follow these sentences up with any other, less important, details. Be sure to keep a copy of the letter for your records.
In terms of whom to address your letter to, the convention depends upon the circumstances. If you are writing on the morning of an exam, your child may be handing a letter to an invigilator, in which case a formal 'Dear Sir/Madam' address may be most appropriate. If you are writing to warn the school of an event or illness that may affect exams your child will sit in the coming days or weeks, contacting your child's form tutor is the way to go.
Below is an example of a letter that could be sent to a child's school, requesting that a child receive special consideration in an examination.
Example Letter
Mrs Irving
The School House
School Lane
Schoolville
England
Parental Address
Family Home
Anytown,
England
1 May 2010
Dear Mrs Irving
I am writing to request that Lara receive special consideration in her upcoming exams. As you may know, my husband and I have been going through a difficult time in terms of our marriage and things have been stressful in our household for some weeks. Lara has struggled to work and revise in the tense environment. Yesterday, however, it came to light that Lara's father has been having an affair. He moved out of the family home this morning. As I'm sure you can understand, Lara has been deeply upset and anxious since. She has had several panic attacks and has lost her appetite. I am worried that, as a result of her current emotional situation, her exam performance will be negatively affected.
I understand that pupils who are experiencing a serious and disruptive 'domestic crisis' can receive special consideration. I would be very grateful if you would please get in touch to let Lara and I know if special consideration is likely to be granted in this case and if there are any further steps that we need to take.
You can contact us on the address above, or via email at larasmother@email.com
With thanks for your time and best wishes
[signature]
Mrs Stone, mother of Lara Stone (form 9b)
You might also like...