Letter to School About a Child's Exam Nerves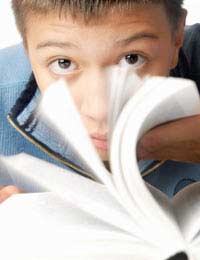 Starting with school entry examinations, then SATs, the 11+, GCSEs, AS levels and A Levels, a school education nowadays can involve a huge number of tests and exams. At the beginning particularly, this can become a stressful thing for children to overcome. It's important to tell them that most people feel some degree of nerves or stress about exams, but it's important to help your child to keep the tests in perspective, and not to become overwhelmed. The best practical way to help your child is to keep everything organised - if necessary, do some practice papers so he or she can see that the exams are formatted in a particular way and know what to expect. Help them with stress reduction techniques like including some exercise into their day - may be go for a walk in the park after school to help your child forget about their exam nerves.
For some children, however, exam nerves grow so serious that they threaten to impact on his or her performance in an exam, as well as his or her general well being. In this instance, it is important to bring up your concerns with staff at school, to both help your child to overcome his or her concerns about the exam and implement some measures that will stop the anxiety about the day(s) overshadowing his or her natural ability and performance in the exams.
This letter format laid out below is a sample letter from parents to a school to ask for help and advice to help a child who is aged ten to overcome his exam concerns and anxiety. The letter can be used as an example of the best way to ask your child's school about your own child's problems with exam stress.
The School House
School Lane
School-land
England


Parental Address
Family Home
Anytown
England

1 September 2008

Dear Headteacher

Our son, Archy, is coming into year six at your school this year, and over the summer we started to discuss practice papers and exam technique for the 11+and entrance examinations that he'll be taking this year. I know the school helps to prepare children for these exams, with 'mock' exam sessions and so on, but wanted to highlight a concern I have about Archy and these exams. Over the summer he has increasingly been bringing up worries and showing signs of anxiety about the examination process. We have tried not to talk about it too much, but he keeps bringing the upcoming exams to the forefront, so we then responded by talking through the process - but he still seems concerned.

Archy's main concerns include things like 'how will I sit the exams?' 'What if I can't answer any questions?' and even things like 'what do I do if I need the toilet'. I know these seem small worries but he's really getting into a state about it and I don't know all the answers and was hoping you'd be able to help! Obviously things like the toilet question merely need a practical response, but in light of Archy's anxiety I wondered whether there are any class discussions about these exams? Archy can get quite anxious about new situations so I wondered if you'd be able to help me to show him that he can feel relaxed about these exams. I would be very grateful if you were able to send me some information on the school's preparation for the exams, and would really appreciate the opportunity to come into the school for a meeting, with or without Archy as you see fit, to discuss how I can stop him feeling too concerned about these exams. I look forward to hearing from you: you can contact me, Melanie Collins, on 020 7493 1019 or 072349827342, or email me at mel@hotmail.com.

With thanks for your time and best wishes

[signature]

Melanie Collins, mother Archy Collins(form 6d)
You might also like...