Write to School to Ask About its Extra-curricular Options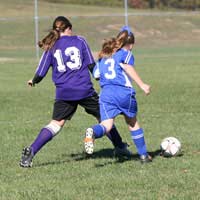 The value of extra curricular activities has been very positively researched; advantages include the fact that children learn to interact with other students and/or teachers in different environments, they meet and make new friends, learn new skills, discover a new sense of confidence and, as a result of these factors, improve their ability in academia - some even see their exam grades improving. Schools offer a huge range of extra curricular activities, such as sport, music, art, IT, debating, literature and drama. Other options may include new ideas such as breakfast clubs or home work clubs.
Breakfast clubs are where children can meet fellow students in a supervised setting before school starts, they are provided will breakfast as well as, in some cases, activities that support learning at school. They encourage healthy eating habits and have improved children's punctuality and attendance, as well as classroom performance. Homework clubs are another relatively new idea; they work when a school stays open after the school day 'officially' ends in order for children to do their homework within the school environment, or sometimes in local libraries. These can be useful as they allow access to resources such as computer and Internet access, plus the availability of trained staff, to your child.
Sports Clubs
Many schools offer after-school sports clubs as well as holiday sports schemes. These may take place on school grounds or in local sports centres or sporting fields. The advantages of sport as an after-school activity includes health - it helps to keep your children fit - and self-esteem: sports can help to build children's confidence and social skills.
This letter format laid out below is an example of the way you might want to contact a school to ask about the kinds of extra curricular activities that it provides.
The School House
School Lane
Schoolville
England

Parental Address
Family Home
Anytown
England
1 August 2008
Dear Headteacher
Our son James is soon to start at The School House as a year 7 pupil. At his current primary school, James has been very involved in school life, not just within the classroom but also through extra-curricular activities. James has been a keen member of sports teams including the school's rugby and football squads, as well as getting involved in intra-school debating, joining after school arts classes and even learning French one afternoon a week. We hope that skill will stand him in good stead when he starts at The School House!
I'm writing to ask you for information about extra curricular provisions at The School House. We find that James' involvement in these activities helps to improve his behaviour and academic attainment. We are hoping that lots of opportunities will be available for him at his new school. I appreciate that you are very busy but would be very pleased to hear your responses on this and to find out more about what's on offer at The School House and whether James might like to prepare over Summer!
We await your response: you can contact me, Mother, on 0191 2343 9049 or 0723422342, or email me at mother@parents.com, and hopefully we can quickly arrange a convenient time to speak or even to meet up.
With thanks for your time and best wishes
[signature]
Mr and Mrs Smith, mother and father of James Smith (incoming form 7b)
You might also like...
Hello. I need your help regarding the format of an application referring to the principle. The application is about writing to principle requesting for extracurricular activities.
Katniss
- 11-Mar-17 @ 11:41 AM